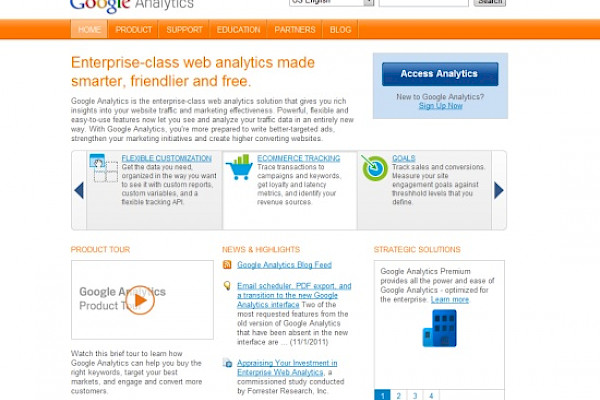 15 November 2011
Best Options for Real Time Analytics
Every business, large or small, has a need to know what is going on with its website and how users are interacting with it. There are a number of different options when it comes to website analytics, and this post will feature the leading options that provide visitor data in real time.
Real time analytics can prove to be invaluable when working with social media or viral campaigns that tend to send traffic quickly and in short bursts. In these situations you'll need to be able to react quickly, and real-time website analytics allow you to do so. Here is a look at some of the best options.
In recent weeks Google Analytics rolled out a new feature for real-time reporting. You can see how many visitors are on your site at the moment, what specific pages they are viewing, what sites referred them, where they are located geographically, and more. You'll need to be using the new version of Analytics in order to view the real time data (read more about that in this post on the Analytics blog).
Clicky's focus is on provide real-time analytics. When you login by default you will see your current data from today. Historical data is also available. Detailed Twitter analytics is also included to help you gauge the impact of social media to your website. The ClickyTouch app is available for the iPhone and iPad.
Woopra lets you watch visitors live to see how the are interacting with your site, and you can even chat with those visitors through the Woopra Chat Widget. Woopra also includes an advanced notification feature that allows you to set up several different types of notifications (email, audible, popup) based on different actions and situations.
Chartbeat provides real-time analytics for news publishers and other types of websites (specialized analytics for e-commerce sites is on the way). Chartbeat's unique engagement metrics help you to see how visitors are interacting with your site and identify areas for improvement.
GoSquared provides all the standard types of metrics, plus it allows you to view data specific to individual visitors. GoSquared integrates with Olark so you can even chat with those visitors. You can set up an alert to notify you of traffic spikes or sudden decreases of traffic.
Mixpanel allows you to watch your visitors engage with the site, observe trends, and compare metrics from previous points in time. Extensive segmentation and funnel analysis features are also included.
Reinvigorate provides real-time analytics as well as heatmaps that help to visualize where visitors are clicking and to identify dead spots. You can even view nametags for your registered users to track their usage of the site.
Piwick is an open-source option for real-time analytics. Piwick can be downloaded and installed on your own server in a five-minute process.
ShinyStat offers four different products including a very limited free analytics product for personal and non-profit websites. The business account includes search engine ranking detection to help track and improve your rankings.
SeeVolution is currently in beta. It features heatmaps and real-time analytics overlaid on your website. Live heatmaps are even available. SeeVolution's visual tool sets provide a unique way to view analytics data without leaving your site.
FoxMetrics provides real-time analytics based around the core concepts of events and attributes. You can set up your custom events to be just about anything you want. Based on the data gathered from the events and attributes, FoxMetrics provides actionable reports that will help you to improve your site.
StatCounter is a free real-time analytics program that can be installed with just a few lines of code. It includes all the typical analytics data, plus you can set up automated email reports to be sent daily, weekly, or monthly.
Performancing Metrics provides real-time blog statistics as well as other features like Twitter analytics.
Whos.Amung.Us is different from most of the other solutions listed here. To use Whos.Amung.Us you can embed a widget on your site or blog to provide real-time stats. Bothe free and paid accounts are available.
W3Counter provides real-time data and over 30 different reports. You can track Twitter mentions, view details of your most recent visitors, view a click overlay, and more. A limited free account is available as well as a paid account.
TraceWatch is a free real-time analytics program that can be installed on your own server. You'll all the typical stats and reports, plus you can view details of your most recent visitors and track their exact path through your pages.
For professional and affordable website design and development, feel free to contact us at Farend, for no obligation quotation.
The above article was originally published by New Design Blog and can be seen here.