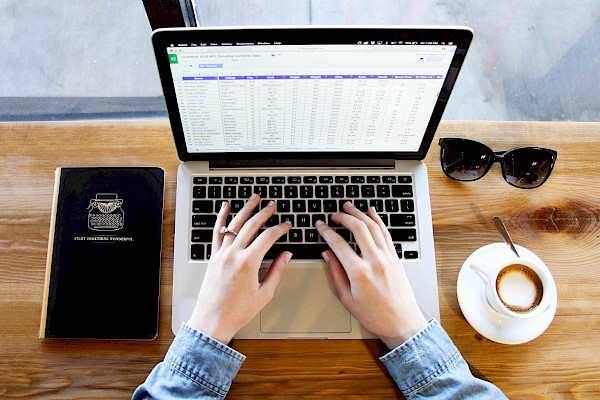 16 June 2017
Online Study Tools
The internet is full of websites designed to meet your every need, from political gossip to cat memes. However, when it's time to get down to business it can be difficult to find reliable tools to help you get the job done.
This article presents a collection of websites that offer distinct, well-developed resources to increase your productivity.
Part I: Research & Homework Tools
In elementary school, you carried a plastic box containing all of the essential supplies you'd need from 8 a.m. to 3 p.m., every day. In college, however, you'll need more than a sparkly pencil with a chewed-up eraser to make it through a macroeconomics class or a research paper. Below you'll find a few examples of high quality, free resources that will help you study more efficiently.
Ice Cream Apps offers free programs that perform basic functions you may require intermittently, but not often enough to justify the purchase of a dedicated product. Programs offered include a PDF converter, audio/video media converter, ebook reader, PDF split and merge tool, screen recorder, image resizer and a slideshow maker.
Paste Bin is exactly what it sounds like: an online text box where you can paste things to free up your clipboard. By signing up for a free account, you can also save or publish your pasted content. Most major platforms are supported—you can paste something into your Windows phone and open it on your Mac, for example.
Think of OverDrive as a worldwide public library for ebooks, audiobooks and videos. Boasting a collection of over two million titles shared by thousands of libraries in over 40 countries, OverDrive likely includes resources not offered at your college or hometown library. To use it, you will need a library card or log-in information from a participating library. To find the nearest participating branch, use the search function on the OverDrive website.
Need to measure something? Just use that pink plastic ruler that came with your Hello Kitty back-to-school set. Or, just use iRuler on your smartphone, tablet or laptop. The iRuler app displays an accurate ruler on the screen of your phone that you can use to measure things in centimeters or inches.
Coursera offers nearly a thousand free courses through partnerships with the world's top universities and organizations. Courses can be taken at any time, on any schedule and (optionally) for a Verified Certificate.
HippoCampus provides resources and supplements for most subjects at middle school, high school and college levels. Through partnerships with Khan Academy, NASA and a number of colleges and public school districts, HippoCampus is able to offer video and text materials that can stand alone or act as enhanced study aids for difficult classes.
Part II: Information Retention
Need to memorize the first 600 digits of pi? Study for your American History final? Figure out the calculus homework from that class you slept through?
If so, check out these free tools designed to help you understand and retain course content.
FLVTO is a YouTube downloading service that allows you to turn your favorite videos into AAC, MP3, MP4, WMV, AVI and MOV files so you can access them offline whenever you want. If professors assign homework tied to YouTube content, you can use FLVTO to download the relevant videos. Or, you can use FLVTO to download TED Talks and mini-documentaries related to your coursework to bolster your understanding of the subject.
Quizlet is an all-purpose, digital flashcard system. You can upload your notes or enter terms and definitions directly into the set creator. Once you've made a set, you can share and combine your cards with classmates or search for other users' sets; this is especially useful for common core courses and standardized tests such as CLEP exams and the SAT. Other functions include integrating images for easier memorization, creating customizable exams and designing single and multiplayer games using the flashcards. Best of all, Quizlet's mobile app allows you to create and study flashcards on the go.
Pinfruit has only one function: helping you memorize numbers using the Mnemonic Major System. Enter a number of any length and Pinfruit will give you a list of words to choose from. Each word has two major consonant sounds that correspond to two digits of the number you entered. These words turn even lengthy numbers into short, memorable phrases.
Wolfram Alpha is a computational engine that can do many impressive things (type in "planes overhead," sometime), but its strength lies in calculation and computation. Using the site, you can solve language puzzles, get step-by-step solutions to nearly any mathematical problem, analyze statistics and perform measurement conversions. It can also supply interactive data about socioeconomic surveys, art, music, astronomy, digital objects, nutrition, organizations and transportation.
Part III: Group Study Tools
Whether you've been assigned a group project or just prefer to study with others, group study requires a different set of tools. The following sites can help you coordinate schedules and projects, collaborate without in-person meetings and communicate what needs to be done.
Slack is a centralized, multipurpose platform for teams. It functions as a searchable forum that can be accessed in an internet browser or through mobile apps, so that you can work (and find your work) anywhere, anytime. Slack integrates dozens of web services like Google Docs, Dropbox, Twitter and IFTTT, so that team members can contribute what they've developed in the programs they use individually.
OpenStudy is a collection of over 1 million students throughout 160 countries collaborating in nearly 200 study groups to ask and answer homework questions. It's also a great place to build companionship with those struggling or interested in similar subject areas. OpenStudy is free and allows you to sign in with Facebook.
Google Docs (together with Google Sheets and Google Slides) is a Microsoft Word (Excel and PowerPoint) like program that operates entirely within your browser. What makes Google Docs great for group work is that when you create a document and share its link, your group members can edit it in real time. Taking notes, developing study guides and building group presentations and papers are simply a matter of each person adding their content on their own time.
KanbanFlow is an advanced to-do list that can be used by an individual or a group. A KanbanFlow is a list that has multiple columns (often labeled "to do," "in progress," and "done") with tasks on them that can be color-coded, assigned to individual users or broken down into subtasks. As users work on tasks, they can move them from one column to another, thus giving everyone in the group a complete picture of how projects are progressing.
Doodle is a scheduling tool that links to Google, Outlook or iCalendar to suggest ideal meeting times. The group leader can suggest several meeting times and group members can respond with whether the proposed time is ideal, works or doesn't work for them.
If you need to talk face-to-face but just can't get together, Google Hangouts offers free video, audio and text chat tools that allow you to communicate and share content in real time.
Part IV: Organization and Environment Tools
A major part of being productive is simply knowing what you need to do, when you can do it and how to get it done. To finish up this series, here are a few tools to perfect your study environment and organization skills.
MyStudyLife is a web app that allows you to manage your class schedule, reach out to your classmates and take notes. If you're looking for a straightforward, central place to put your schoolwork, give MyStudyLife a try.
Wunderlist is a list-lover's dream. Use your browser, a smartphone app or the downloadable program to create and manage lists. Wunderlist allows you to set deadlines, create sublists or notes within list items and star important items. You can also email tasks to your lists and share lists with others.
If you're still using a paper planner (or no calendar at all), it might be time to enter the digital age. Google Calendar is a free online calendar tool that has all of the bells and whistles of modern digital scheduling tools, including color-coded, recurring and shared events. You can also set Google Calendar to send you text reminders of upcoming events. Best of all, it can be integrated into any calendar platform, from Outlook to Cozi to your smartphone of choice.
SimplyNoise is the ultimate generic background noise generator. Choose from white noise (all frequencies), pink noise (a blend of high and low frequencies) and brown noise (low frequencies). Adjust the volume and turn on oscillation or the sleep timer (if you so desire) and you're good to go.
If you'd rather listen to something more natural, consider Rainy Mood. Rainy Mood has no settings; just click on the link and get to work!
---
For free and no obligation consultation on web design, web development or graphic design, feel free to contact us :)
The above article has been originally published in a series of articles by HackCollege and can be seen here.