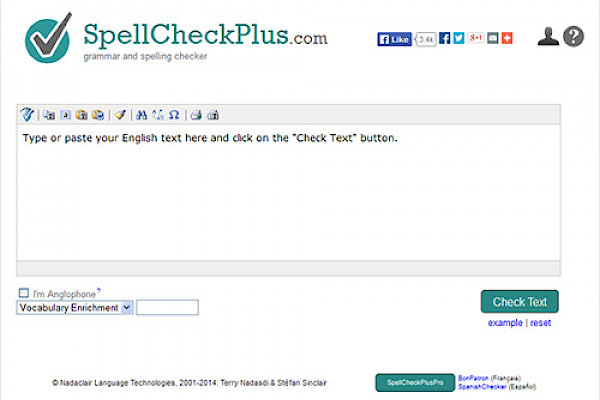 18 July 2014
Proofreading Tools for Professional Writers
Claims that professionals writers use software that is wildly different from that used by other people and students is silly. The expensive software packages are used less than the free online tools or the ones that come with Microsoft Word, Office or Works.
On this article you will find a few proofreading tools that you may use to improve the quality of your writing when you check it after you finish your draft. Most of the tools (software) on this list are completely free, and each of the tools have their own charms that make them stand out from the others on this article.
Spellcheck Plus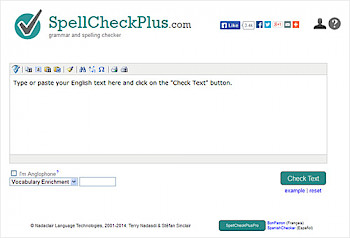 Paste your text into the white space provided and click the Check Text button. It will highlight your spelling errors in red and use yellow highlighting or slightly-green yellow writing for possible spelling mistakes and possible grammar errors. What is great about this tool is that it picks up on missed commas very well. Obviously, you should not take every suggestion it throws out at you, but the possible comma errors it highlights are very handy if you happen to miss a lot of commas in your work. The potentially misused words function is also very good. The tool will point out words that are not particularly incorrect, but that may have been misused or used in the wrong context.
Are there any flaws with this tool? There are perhaps one or two, for example, there are times when it changes a sentence or two when you paste in your text to the tool, but this is most likely a conversion problem between the formatting and setting on your word processor and that of the online tool. The only other niggling little thing is that if you are not a pro member then you have to see the pro-version advert pop up when you use the tool. You cannot enter as much text with the free version either.
Grammar Base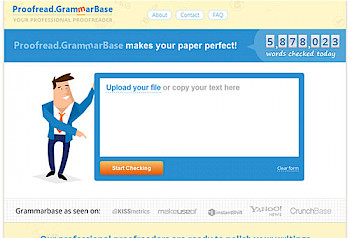 From the point of view of a person unwilling to pay, this tool may be the least use to you, but you want to know what professional writers use and a minority of professional writers use this tool so it gets a mention. let's pull aside the bull poop on the site, for example, along the top it will claim a number of words checked every day, but if use the site every day you will see it is lying. Also, when you run a check it will claim you have made critical errors, yet this is rarely the case; it even claims that a passive voice is a critical error when it is not. Also, this is supposed to be a grammar and spelling checker and yet if you want to check another piece it will say, "Start new checking."
All this tool is going to do is highlight the potential errors it thinks you have made and list them on the left of the screen. Double click on the issues it points out on the left and it takes you to where they are on the page. It will not give you suggestion as to how you may fix these "errors," but if you know your spelling and grammar then you can fix them yourself. What it wants you to do is use its paid service to correct your work. Frankly, if you are a professional writer and are too tired to check your own work, then it may be worth getting someone else to check it for you–ergo, this tool appears on this article.
Common Errors in English Usage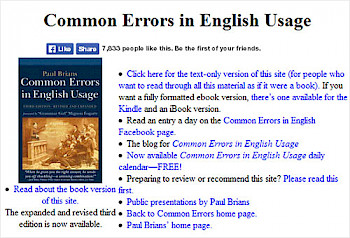 This is not strictly a tool so it doesn't get much attention on this article, but it is a handy resource for checking grey-area words, such as the difference between unchartered and uncharted, upmost and utmost, therefore and therefore, and where to put "try and" in a sentence.
After the deadline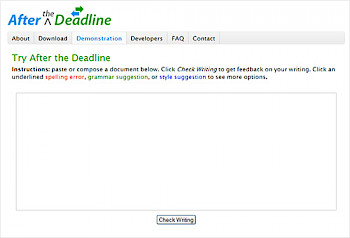 This is a spelling, grammar and style suggestion tool. Paste your text in the box on the screen and click to check the writing. Your spelling mistakes will be highlighted in red, style suggestions in blue and grammar suggestions in green. Left click on the highlighted color and it brings up your suggestion. One if its best features is its simplicity. There is no Captcha to enter and it gets right on the job instead of making you jump through hoops to use the tool. Only having to left-click on a suggestion is also very convenient. Is it any more powerful than the Microsoft spelling and grammar checkers? In this case, probably not, but it is handy to have around so you may see if it catches any errors that your Microsoft Word processor missed.
Grammark.org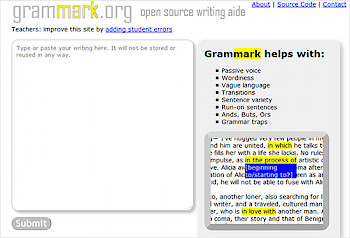 Pop your text into the space provided and click to submit. You are then given a results screen. The first tab is an overview and shows you how many potential problems the tool thinks your text has. It gives you an overview of how many words you have, how many sentences, how many words per sentence, sentence variety, wordiness, grammar and passive voice problems. To the far right it will give you statistics about your text and a percentage score, though the score only really matters if writing in a formulaic fashion is what you are going for.
Click the next tab to see all instances of using a passive voice highlighted. There are instructions at the top that explain how the passive highlighter works, but if you cannot "puzzle" it out, then just take note that the highlighted sections may have a passive voice that may take the writer out of the moment (if that even matters to you).
The next tab is the wordiness tab and there are two functions at work here. It will highlight all instances of wordiness in yellow. These are parts of your text that you could probably stand to make a little shorter so that the work is a little more concise and/or a little less wordy. The other function will add black strips to your text. If you hover your mouse cursor over the black strips you will see words underneath. These words are the words that the tool thinks you may wish to add into your text. You will have to add them manually into your text if you agree with the tool. Be aware that the tool cannot understand the message or point of your text, which means its suggestions for words to include will often miss the mark.
The next tab is the transitions tag that will show areas where you have not transitioned correctly between sentences. Again, it is only a piece of software and is therefore going to miss transition problems because it cannot understand the text it is checking. The sentences tab shows you where you have used informal writing, which may be okay online and when writing sales copy, but may be unacceptable in formal business settings or academic works. It also shows you your sentence variety and of any of your sentences are overly long or short.
The last tab will show you your grammar issues, and usually by the time you have reached this tab you have already fixed all your issues. Still, if there are any remaining grammar issues it will highlight them in yellow for you.
Ginger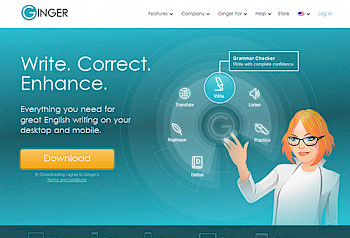 Sadly, unlike the other tools in this article, you have to download and install Ginger. Still, it gives you a trial on the homepage by allowing you to enter a sentence into the tool. It shows you how it highlights potential problems red and shows you a new version with the errors corrected. It is handy, but the fact they want you to download and install is a big pain in the marble sack. As always, be very careful when it comes to downloading and installing software on your PC or laptop.
Paper Rater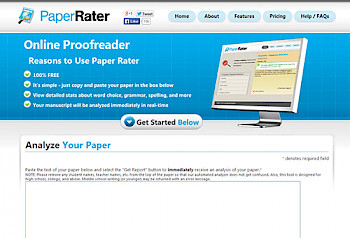 Click on the button to use it for free instead of paying right away. The cost per use is zero, but they do offer a premium membership. Of all the tools on this article, this has to be the slowest one to use, but it is free so it is hard to complain.
As far as picking up your error goes, it does have a knack for picking up the occasional error that other devices have missed, such as pointing out that "tools in this article" is preferable to "tools on this article." The tool asks you to paste your text into the space provided, but it also insists that you give your work a title too. You can also paste your words cited into the tool, but it does not insist upon it. You must stipulate the level of education the text should be at so the tool can judge it accordingly. It also insists that you select the type of paper you are submitting. Then, as a final kick it gives you a Captcha to complete, which slows down the process a little more. You also have to accept the terms and conditions before clicking "Get Report." Do and that and you are able to use this fairly good tool.
Pro Writing Aid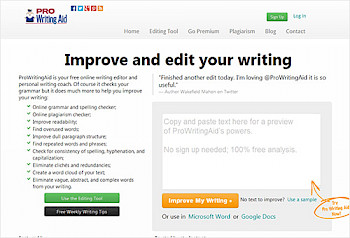 Enter your text into the small white space it provides and click to check the work. You will be lead to a page that shows your analysis summary. Here you are given a report showing what you have done correctly and things the tool thinks you should improve.
The summary is rather comprehensive; all you need to do is click on the errors it thinks are a problem and it brings up the text related to that error so you can check it. When the text comes up it will show you highlighted sections that it thinks are the problem. It has a nice list, consisting of things such as overused words, writing style reports, clichés and redundancies, NLP predicates report and many more–though you do need to pay for some of the services it offers on the list. The things such as the Vague & Abstract Words Report are interesting because they point out things you may not have considered when proofreading yourself, such as how the word, "also" may be considered vague.
This could be one of the best proofreading tools on this article, not because it is the best at catching grammar, spelling and sentence errors, but because it offers more suggestions than the other articles and does it in a modular way so you are not overloaded with information as you proofread. You are given a list you can follow to see a report on all the things that may be changed or improved if you were willing. You can even use the tool to teach you a little about improving your writing (not just grammar issues) so at to make your writing easier to read or a little less predictable, less vague, less dull, etc.
For professional and affordable IT Web Development, feel free to contact us at Farend, for no obligation consultation.
The above article has been originally published by InstantShift and can be seen here.