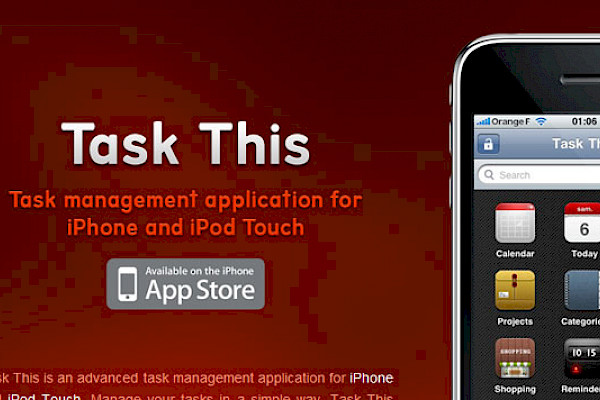 9 June 2011
Top 5 FREE Task Management iPhone Apps
Managing your day to day tasks can be difficult sometimes especially when you're handling different projects at the same time. Tasks can sometime replace our other social activities if we don't know how to manage them. Sometimes it is difficult to have so many tasks in one day that will lead you to a stressful day ahead of you even though you're just starting your day.
One way to help you focus on what are important tasks and concentrate on the current task is the use of tasks management tools. And one of the useful tools that project managers, creative types and freelancers are using today is the tasks management tools for iPhone. By being able to access you're projects, tasks and individual statuses you can easily update or add what are the important and not so important tasks which you can set along with due dates, categories and tasks notes.
We are going to feature Top 5 FREE Task Management Tools for iPhone and iPod Touch which we think it will help you on your busy schedules. We also include some of the important things and key features you can consider before downloading the task management app.
1. TaskThis
TaskThis is a newly released task management application for iPhone and iPod Touch which I personally like and used. It manages your tasks in an organized and simple way. You can create unlimited projects, events, categories, shopping list and you add also tags which will help you easily search a certain tasks, events, or a milestone.
What's good about TaskThis:
2. Errands
Errands is a task manager which I used for quite some time now. Although the over-all app aesthetics are not that good, there are few pleasing features that really captured my attention. Such as creating different folders, scheduling, notes, notes as checklists, automatic badge updating, and multiple view modes.
What's good about Errands:
3. Wunderlist
An elegant task management app. Simple organization of your daily tasks while keeping track with your important tasks with reminders and notifications. The most unique feature of Wunderlist is that you can share and collaborate your own tasks to your colleagues by email.
What's good about Wunderlist:
4. SiezetheDay
SeizeTheDay is a simple and easy to use task manager that helps you organized and stay on top of your busy life.
What's good about SeizeTheDay:
5. Easy Note
Easy Note is a simple yet effective notes and to-do app for iPhone. It provides good basic functionality with an attractive and clutter-free design.
What's good about Easy Note:
Bonus! Top 3 Premium Task Management Apps
1. Things
Getting your things done easy and on the right way with the use of Things. Things revolutionized the task management tool. It started as a Mac tool, when it became famous it also offers downloads for iPhone and iPod Touch.
What's good about Things:
2. Remember The Milk
What's good about Remember The Milk:
3. 2Do App
What's good about 2Do:
For professional and affordable IT tech support, feel free to contact Farend, for no obligation quotation.
The above article was originally published by Tripwire Magazine on 09/05/2011 and can be seen at: http://www.tripwiremagazine.com/2011/05/top-5-free-task-management-iphone-apps.html